Congratulations on your first session of laser hair removal! You are well on the way to never having to worry about unwanted hair growth again. In the meantime, it is important to take special care of your treatment area. The small amount of attention you pay now will pay off in the long run.
What to expect after a laser hair removal session
The vast majority of people experience minimal discomfort after a laser hair removal session and you can continue to go about your day as normal. However, it is reassuring to know what is considered a normal reaction to laser hair removal. So here are a few things to expect:
Redness and irritation for a few hours
Your skin may feel sensitive or raw for the first few hours after treatment. The sensation mild and similar to sunburn or razor burn. It's completely normal to experience a bit of redness and bumpiness for several days too. You can use a cold compress, or aloe vera on the area to calm irritation and redness.
Less common: Crusting
While generally not common, some people do experience dryness and crusting once the redness has gone down. This can be treated with a moisturising topical lotion or antiseptic cream. Just be careful not to use anything heavily perfumed or unsuitable for sensitive skin to avoid further redness and irritation.
Hair loss in the treated area
Expect to see results between 5-30 days after treatment. It may be a little patchy at first, but don't worry as this is normal. Over time, and across your different sessions the patchiness will even out until the area is completely hair-free.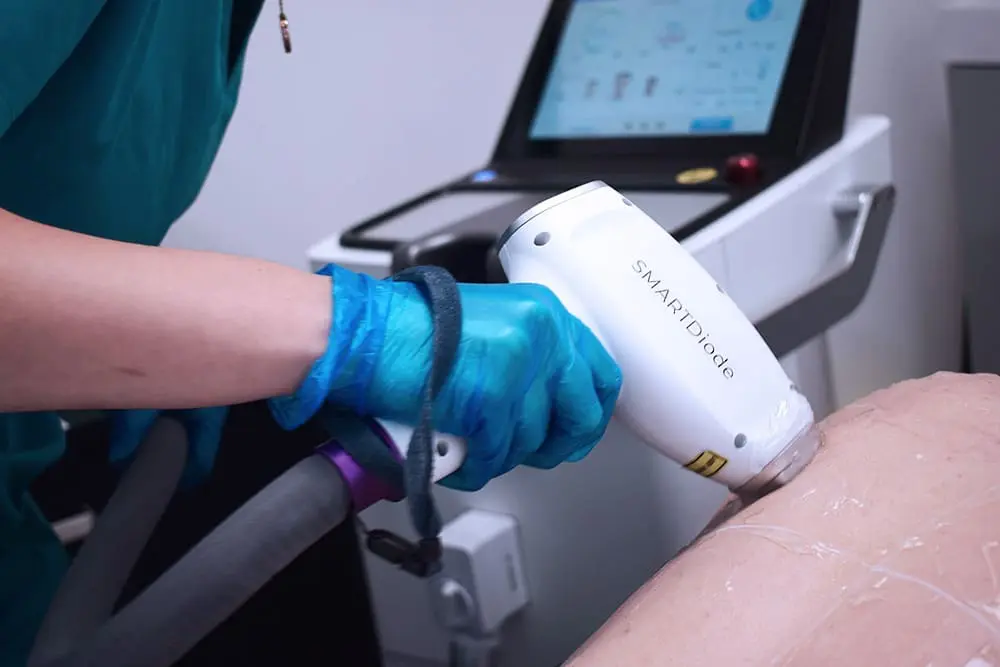 Caring for your treatment area after laser hair removal
Here are a few tips that will help you to better care for your skin and achieve optimal results.
Listen to your technician

This article is full of general aftercare tips, but each clinic has its own advice for aftercare depending on the lasers they're using. Make sure that you pay attention when your technician explains how to care for your skin at home and follow their instructions.
Avoid sun exposure and sunbeds

Sun exposure is one of the biggest avoidable causes of pigmentation and scarring post-treatment. We advise against UVF exposure during your treatment course. Apply sunblock with SPF 30 minimum daily. You can use fake tan 3 days after treatment, but make sure it is completely removed at least two weeks before your following session.
Avoid intense heat for 48 hours

While your skin is at its most sensitive in the first two days post-treatment, avoid excessive heat to the treatment area. This includes hot baths, saunas, and jacuzzis.
Clean the area gently for a few days

During this time, be careful not to scrub away at the treatment area. Use a gentle soap and avoid using a washcloth, sponge, or loofah for several days.
Use gentle products to cleanse and moisturise

For the first three days do not use products that cause photosensitivity such as salicylic or hydroxy acids and retinols. Opt for a cleanser that is especially for sensitive skin.
Avoid picking or plucking at the treatment site


It may be tempting to encourage your hair loss along by picking or plucking at the hairs at the treatment site, but just be patient. Your skin will thank you. 

At  Laser Club, we use state-of-the-art SMARTDiode laser machines with intelligent software to deliver safe and effective results. As with any laser hair removal treatment, improper aftercare may increase the chance of skin texture and pigmentation changes. Follow these post-treatment tips, and if you have any questions feel free to contact us.