Laser Hair Removal for People with Polycystic Ovaries Syndrome
Do you suffer from polycystic ovary syndrome?
Excessive growth of unwanted body hair (hirsutism) is typically one of the symptoms of PCOS. Hair can grow on the face & neck, chest, stomach or buttocks. At The Laser Club, we are aware of the drastic effects this can have on your mental health & confidence. This is why we offer a long-term, affordable solution to unwanted body hair growth associated with PCOS. We have a team of experts with years of experience treating unwanted body hair.
How does laser hair removal work?
Our triple wavelength PRIMELASE machine uses light pulses that lock on the hair's melanin and transforms into heat. This heat damages and can permanently destroy the root of each individual hair, preventing or significantly slowing regrowth. You can see this results from the first & second session, with at least 90% of hair reduction at the end of your course. Those follicles that are not permanently destroyed, will grow considerably smaller & thinner hairs. It also slows regrowth! Our clients report upto 70% permanent hair reduction after the second session, some even after their very first one.
What areas can be treated?
Laser hair removal can be used almost anywhere on the face and body. Since our machines allows us to adjust settings depending on your skin & hair type, we can tailor the treatment to almost any body part. You can get laser hair removal on the neck, chest, buttocks, intimate areas, legs, arms, back, stomach and almost everywhere on the face. Unwanted chin, lip or cheek hair? We've got you covered!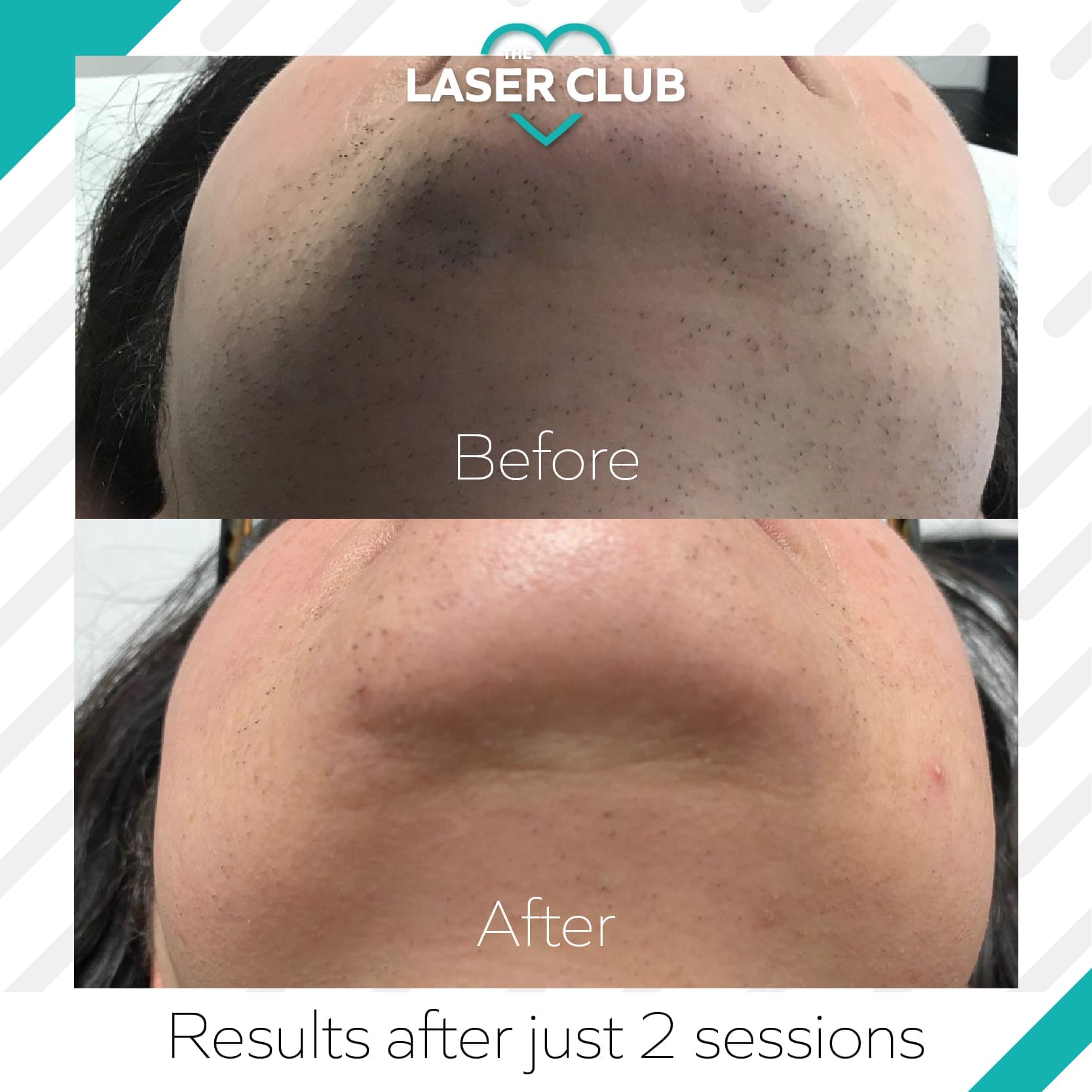 Since the majority of hair that grows on the face is heavily influenced by hormones, we cannot predict how long the results will last. It depends entirely on your hormones and how they fluctuate. However, most of our clients have experience 3-6 months long-term hair removal on the face and almost yearly on the rest of the body.
If you need a second or a third session package, please let our technicians know. We can offer you a discount to help maintain the hair regrowth at its minimum.
I can NOT believe the results of my Laser Hair Removal. I am only on session number 3 and I would say 90% of my hair has gone. When they say to you its the best machine available – I believe it now. My sister went to another 'high profile' clinic in MCR and they use the Soprano ice machine and 6 sessions in she's still got ALOT of hair left. Shes already booked in for a consultation with Grace and will switch over. This place is AMAZING.
Course of 6
(buy 1 get 1 free)

Upper Lip - Chin - Cheeks - Hair Line - Side Burns
Course of 6 sessions:
pay 5 sessions + 1
session free!
Patch test & Consultation required prior to any session or course of treatments. You can book in your consultation online.
We require £25 deposit prior to booking any session to secure your appointment.
Packages need to be paid upfront on the first session.
Full Body Package - LIMITED TIME OFFER
This includes 6 sessions of Laser hair removal on the full legs, bikini/Hollywood & underarms. Add face for £100. For additional areas are extra please contact us.
To claim this offer, click on the button to book in your patch test & consultation.
Booking an appointment
Before booking your session or course we need to book you in for a consultation and a patch test. In the consultation we check your medical history and make sure you are suitable and safe to get laser hair removal. There, we discuss the areas you are interested in and agree on the best course of action.
Sometimes, you will need fewer or more session, but clients are usually happy after 6, this is why we offer a 6 course package where you pay for 5 sessions and get 1 free. The package course is the most common way to book your laser treatment, but you can also pay as you go and see how it goes, we assure you will be amazed after session 2!
You can book your consultation online here. You can also give us a call on 0161 327 1712 or you can send us an email on [email protected] and we will sort it for you.
Our PRIMELASE laser is suitable to treat all skin types & colours, so you can be sure that you will always get the best results possible.
Don't hesitate to contact us if you have any questions or would like more info. We are always happy to help!