Trans Laser Hair Removal At The Laser Club!
Laser hair removal is an effective method for many trans people who are looking to get rid of unwanted body and facial hair. This blog will explore 2 case studies of our trans-female clients' personal journeys at The Laser Club.
For our clients who are trans women, we know that the presence of facial hair can cause daily frustration & anguish. Not only is the presence of facial hair frustrating, but the irritation that comes with shaving/creaming or waxing the hair can worsen that frustration. Getting rid of unwanted hair can be a major milestone for trans people & their gender alignment journey. The most common areas that our transgender clients have treated at The Laser Club are full face, half face, chin, back, chest, pubis area, legs, and arms.
Laser hair removal is a non-irritative, non-invasive, quick, and virtually pain free way to achieve smooth, hairless skin. It comes without the side-effects associated with other hair removal methods like waxing & shaving. Unwanted hair can have a devastating impact on self-esteem, confidence, and mental health. The side effects associated with these hair-removal methods, such as ingrown hairs, shaving rashes, bleeding & bacterial infections can be just as distressing. Laser hair removal is also suitable for the more sensitive areas of the body, like the face and pubis; areas that are more reactive to shaving and waxing.
For trans people, the results of laser can positively impact the feelings of dysphoria associated with hair growth, as well as eliminating the side effects of regular shaving/waxing.
Important to note, laser hair removal does not interfere with hormone replacement therapy (HRT). You can start your laser hair removal journey before or after starting HRT, either way, the laser remains effective. The destruction of follicles using laser can be achieved regardless of the presence of female to male (F2M) hormones. Also, laser will not affect your hormone levels. It affects your hair follicles ONLY. Hormones are produced in the endocrine system & are not affected by our laser machine.
.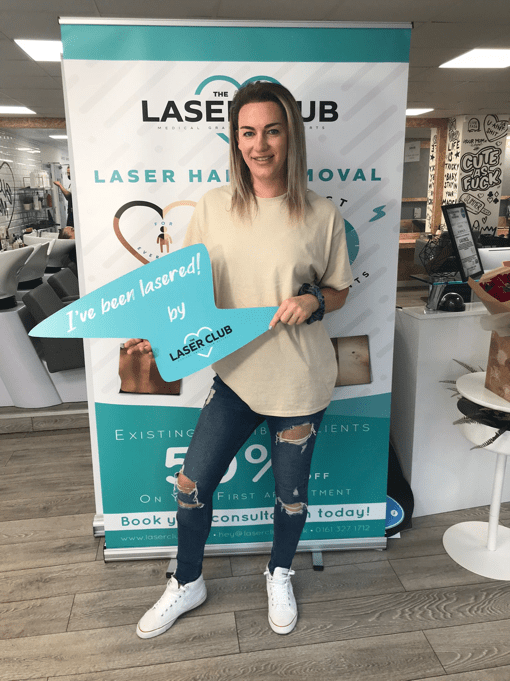 Chloe
is a 39-year-old trans woman, who has been interested in laser hair removal since forever. She came to us having shaved her body for years, wanting a smooth, hairless result.
Chloe suffered ingrown hairs and general frustration at the presence of unwanted hair and the time consuming, irritative process of everyday shaving.
Before her laser treatment, Chloe had noticeable dark hair follicles after shaving, which, now, after 5 laser sessions are completely gone. Chloe said laser hair removal was a big factor in her gender alignment and getting rid of the unwanted hair made her feel more feminine and more in line with her true self.
We asked Chloe some questions:
How far do you travel to get to The Laser Club?
– I live in Leicester and travel 2 hours to get there, and it's so worth it!
How do you find our SMARTDiode machine? How does it feel?
– I was apprehensive about how the laser machine would feel, but the machine is pain free and so quick! I started to see results after my 2nd session!
How has laser affected your life so far?
– I'm 5 sessions in and it has made so much difference already, to my hair and general confidence!
What do you think of The Laser Club?
– I love The Laser Club for the girls who are just amazing and make me feel like one of the family.
It's been incredible having Chloe as a client!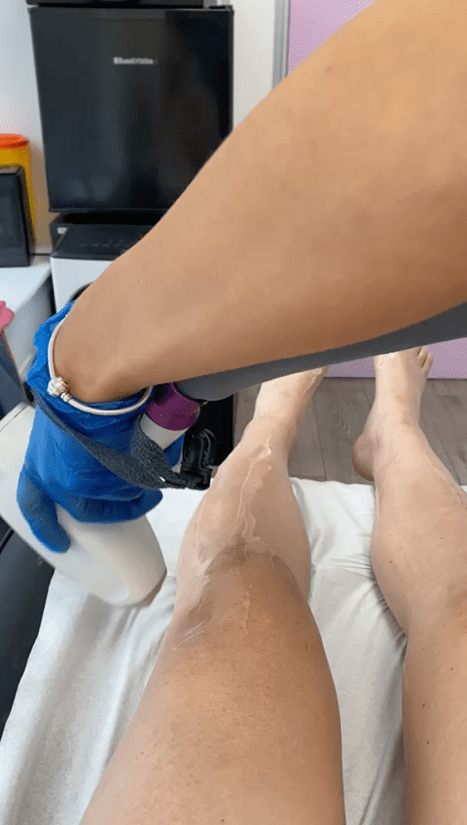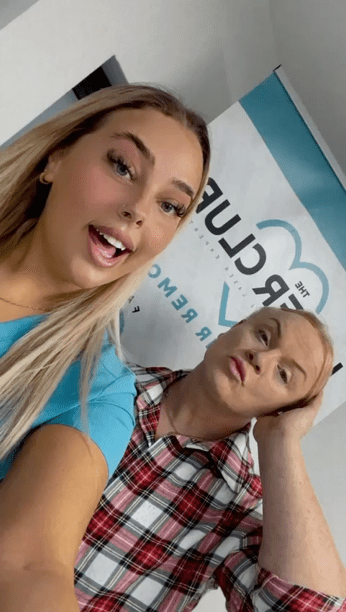 Trish
is a 48-year-old trans woman who lives in Nuneaton but comes to Leeds and Yorkshire on a regular basis, for nights out, gigs, events, and, of course, to The Laser Club! Trish started her laser journey back in July. During her consultation, Trish voiced concerns about having bad ingrown hairs, irritated skin, under the skin spots, dark skin under the armpits and thick black chest hairs.
Trish wanted laser hair removal for a while but was struggling to afford it. Trish was also trying to find the right place for her laser hair removal, it was super important to her to have a consultation and form a good relationship with the laser technician.
In terms of how the machine felt, Trish mentioned she felt the cold from the gel application more than our SMARTDiode machine! The only place she felt the laser was on her toes.
In terms of her results, Trish said they have been wonderful! After Trish's 3rd session, she didn't need to shave for 5 weeks!
Trish noticed dolphin smooth skin, minimal skin irritation and loved that she avoided shaving nips and cuts. Trish's skin is smoother, clearer, and no longer sensitive or aggravated. Trish said she occasionally gets fine hairs but finds them easy to manage. This is expected after 6 sessions of laser, we usually suggest a course of 6-8, with some clients needing additional top ups yearly to eradicate those stubborn fine hairs! Trish's last session was 3 weeks ago and she hasn't had to shave since!
Trish's confidence has sky-rocketed since getting laser treatment, she has been flaunting her bare legs and is enjoying sporting hotpants and miniskirts. We are incredibly happy for her.
See below for pictures of Trish, 3 weeks after completing her package of 6!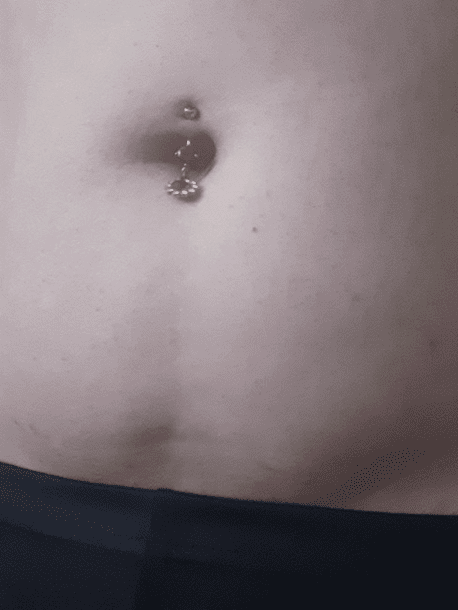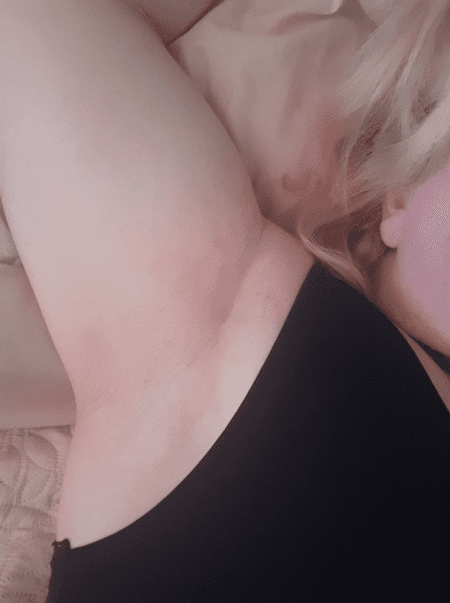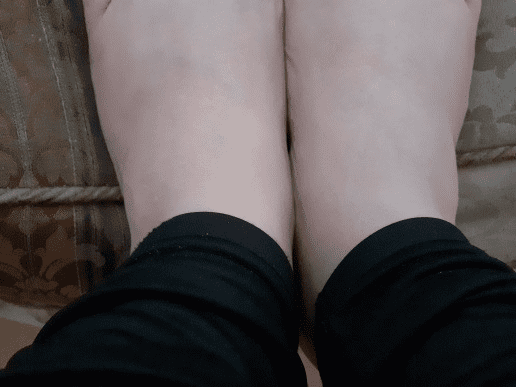 Being transfeminine or a trans woman, getting rid of unwanted hair & moving towards your gender presentation goal can be a great boost psychologically. Laser hair removal can be a huge help to align one's gender expression with their gender identity. Aware of the many barriers to accessing laser hair removal (Reeves, 2016), The Laser Club wants to make the path of access easier & less stigmatising for trans people. We prioritise creating a supportive environment, with a fully personalised service and treatment plan tailored to your needs.
We also know the transitioning journey is an expensive one, so we have a split payment plan on offer, to make that process a little easier for you.
It is amazing to be able to help our trans clients on their journey of gender alignment.
Is it time you removed your unwanted hair? At The Laser Club, you will never be judged and always made to feel comfortable with us. You're in great hands!
Book your Free Consultation & Patch test here: